Screening of Harun Farocki's film Images of the World and the Inscription of War and discussion with Prof. Ute Holl. Monday March 4, 7:00pm, HSSB 1173.
UC Santa Barbara Memory Studies Reading Group presents
Harun Farocki's movie Images of the World and the Inscription of War (1988)
Monday, March 4, 2019 7:00pm, HSSB 1173 
Dr. Ute Holl, Max Kade Visiting Professor, Winter 2019
(Germanic and Slavic Studies & Comparative Literature), will introduce the movie
& moderate our post-screening discussions.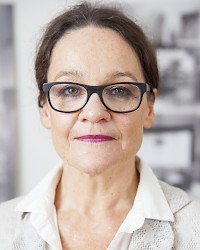 Ute Holl is Professor of Media Aesthetics at the University of Basel. She writes on the history of perception in the 19th & 20th cent.; science & technology studies of audiovisual media; media history of acoustics, electro-acoustics & radio theory; experimental & ethnographic cinema. Her books include: Kino, Trance und Kybernetik (Berlin, 2002), on cinematic perception, anthropological filmmaking & cybernetics as critical epistemology (Cinema, Trance and Cybernetics, Amsterdam UP, 2017); and Moses-Komplex (Zürich, 2014) on music, electro-acoustics and politics.  In winter 2019, she is teaching a graduate seminar on Memory and Cinema.
Under the auspices of the Comparative Literature Program and the Graduate Center for Literary Research at UC Santa Barbara, our Memory Studies Reading Group bridges literary, cultural, and historical analysis of memory. We examine the nature of memory itself and investigate the relationships between history and memory, past and present, testimony and witnessing, ethics and politics, being and time, digital and global.
Memory Studies Reading Group https://ucsbmemorystudies.wixsite.com/0000
date of event:
Monday, March 4, 2019 - 19:00